As a bona-fide bookworm I love talking books. I love sharing my all time favorite books with someone. Talking about our must read authors. Discussing books at book club gives me some kind of strange delight. I'm just that much of a bookworm. While I don't usually rate books online or in book reviews here, I do want to share 6 books with you that I've recently read, detailing if you should LOVE them or LEAVE them.
The Light Between Oceans
Goodreads Synopsis:
After four harrowing years on the Western Front, Tom Sherbourne returns to Australia and takes a job as the lighthouse keeper on Janus Rock, nearly half a day's journey from the coast. To this isolated island, where the supply boat comes once a season and shore leaves are granted every other year at best, Tom brings a young, bold, and loving wife, Isabel. Years later, after two miscarriages and one stillbirth, the grieving Isabel hears a baby's cries on the wind. A boat has washed up onshore carrying a dead man and a living baby.

Tom, whose records as a lighthouse keeper are meticulous and whose moral principles have withstood a horrific war, wants to report the man and infant immediately. But Isabel has taken the tiny baby to her breast. Against Tom's judgment, they claim her as their own and name her Lucy. When she is two, Tom and Isabel return to the mainland and are reminded that there are other people in the world. Their choice has devastated one of them.

M. L. Stedman's mesmerizing, beautifully written novel seduces us into accommodating Isabel's decision to keep this "gift from God." And we are swept into a story about extraordinarily compelling characters seeking to find their North Star in a world where there is no right answer, where justice for one person is another's tragic loss.
My thoughts... This book took some time to get into and when it finally drew me in, I was obsessed with reading it and discovering where the story was going. Had you told me I would cry at the end of this book, I would have had believed you. Isabel's struggle with motherhood, the loss time and time again, is heartbreaking. As a mother, I can't even imagine. However there is always two sides to a story. This is one that is worth waiting it out for.
Eleanor & Park
Goodreads Synopsis:
Two misfits. One extraordinary love.

Eleanor... Red hair, wrong clothes. Standing behind him until he turns his head. Lying beside him until he wakes up. Making everyone else seem drabber and flatter and never good enough...Eleanor.

Park... He knows she'll love a song before he plays it for her. He laughs at her jokes before she ever gets to the punch line. There's a place on his chest, just below his throat, that makes her want to keep promises...Park.

Set over the course of one school year, this is the story of two star-crossed sixteen-year-olds—smart enough to know that first love almost never lasts, but brave and desperate enough to try.
My thoughts... Eleanor & Park was such a breath of fresh air. Most young adult books lately have been far too much for me. This was the perfect combination of serious, fun, lovable and sad to make for a great read. It's also a very easy read so if you are looking for something light and quick, this would be a great choice.
Promise to Keep
Goodreads Synopsis:
Callie Perry lights up every room she enters, and adores her settled family life in tony Bedford, New York. Steffi is Callie's younger sister. At thirty, she's still a free spirit bouncing between jobs and boyfriends in Manhattan. Their long-divorced parents, Walter and Honor, share little besides their grown daughters. But when Callie receives a difficult diagnosis, the family will come together for one unforgettable and ultimately life-changing year.
My thoughts... I loved this book! If you've ever had a best friend that is or was the polar opposite of you, you will love this book. If you are a Mom or have lost a loved one to cancer, this book will hit all the right spots. You will laugh. You will rejoice. You will cry. But you won't be disappointed.

The One & Only

Goodreads Synopsis:

Thirty-three-year-old Shea Rigsby has spent her entire life in Walker, Texas—a small college town that lives and dies by football, a passion she unabashedly shares. Raised alongside her best friend, Lucy, the daughter of Walker's legendary head coach, Clive Carr, Shea was too devoted to her hometown team to leave. Instead she stayed in Walker for college, even taking a job in the university athletic department after graduation, where she has remained for more than a decade.

But when an unexpected tragedy strikes the tight-knit Walker community, Shea's comfortable world is upended, and she begins to wonder if the life she's chosen is really enough for her. As she finally gives up her safety net to set out on an unexpected path, Shea discovers unsettling truths about the people and things she has always trusted most—and is forced to confront her deepest desires, fears, and secrets.

Thoughtful, funny, and brilliantly observed, The One & Only is a luminous novel about finding your passion, following your heart, and, most of all, believing in something bigger than yourself . . . the one and only thing that truly makes life worth living. My thoughts... I am a huge football fan but even this was a bit much for me. The main character Shea was a little boring to me because girlfriend was OBSESSED and her live was nothing but football. I wish we could have seen a different side of her. I usually love all of Emily Griffin's book but this one fell short. Shine Shine Shine

Goodreads Synopsis:

Sunny Mann has masterminded a life for herself and her family in a quiet Virginia town. Her house and her friends are picture-perfect. Even her genius husband, Maxon, has been trained to pass for normal. But when a fender bender on an average day sends her coiffed blonde wig sailing out the window, her secret is exposed. Not only is she bald, Sunny is nothing like the Stepford wife she's trying to be.

As her facade begins to unravel, we discover the singular world of Sunny, an every woman searching for the perfect life, and Maxon, an astronaut on his way to colonize the moon. Theirs is a wondrous, strange relationship formed of dark secrets, decades-old murders and the urgent desire for connection. As children, the bald, temperamental Sunny and the neglected savant Maxon found an unlikely friendship no one else could understand. She taught him to feel -- helped him translate his intelligence for numbers into a language of emotion. He saw her spirit where others saw only a freak. As they grew into adults, their profound understanding blossomed into love and marriage. But with motherhood comes a craving for normalcy that begins to strangle Sunny's marriage and family.

As Sunny and Maxon are on the brink of destruction, at each other's throats with blame and fear of how they've lost their way, Maxon departs for the moon, where he's charged with programming the robots that will build the fledgling colony. Just as the car accident jars Sunny out of her wig and into an awareness of what she really needs, an accident involving Maxon's rocket threatens everything they've built, revealing the things they've kept hidden. And nothing will ever be the same.

My thoughts...

This has to be one of the biggest book let downs I have ever experience.

Only read this book if you have the desire to drive yourself batty. This is one the worst books I've ever read. Once I start a book, I'm committed so I kept pushing through although it was almost painful to do so. Bits and pieces were tolerable but overall, it made my eyes bleed and my mind scream "Stop! Stop!"

The Girl on the Train

Goodreads Synopsis:

Rachel takes the same commuter train every morning. Every day she rattles down the track, flashes past a stretch of cozy suburban homes, and stops at the signal that allows her to daily watch the same couple breakfasting on their deck. She's even started to feel like she knows them. "Jess and Jason," she calls them. Their life—as she sees it—is perfect. Not unlike the life she recently lost.

And then she sees something shocking. It's only a minute until the train moves on, but it's enough. Now everything's changed. Unable to keep it to herself, Rachel offers what she knows to the police, and becomes inextricably entwined in what happens next, as well as in the lives of everyone involved. Has she done more harm than good?

My thoughts... if you've read Gone Girl you can pretty much figure this one out from the get go. Parts of this book were worth the read and others, I simply dragged myself through in hopes that it would get better. This was one must read by so many in the blog world and even book lovers but for me, it was predictable and a bit boring at parts. Rachel, the main character, lived the picture perfect example of "hot mess" and while it's okay to have off days, girlfriend was too much of a mess for me to handle.

I'm currently complying a list of books to read this Fall. With a little more me time coming up (when C starts school), I'm hoping to read a bit more. What is one book you've read and loved? What's one that I should stay clear of?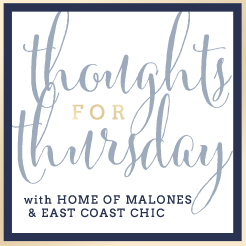 Thoughts for Thursday