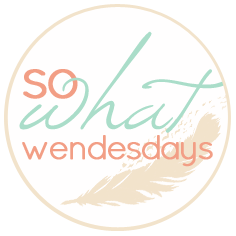 This week I'm saying So What! to...
**
Sophie
was used in a vicious murder this week. It was either me or the spider and Sophie just so happened to be in my hand.
** Every blog post is written while listening to Christmas music.
** I want to cut my hair short but worry that it will be more of a pain to keep out of Connor's reach if I'm unable to put it in a ponytail.
** Walking fitness shows on Hulu are my only option to workout. Hello 1980's!
** I didn't expect Texas to be as windy as it has been since we moved here. 30-35 MPH! That's crazy! Makes afternoon walks a bit tough.
** Scentsy is outrageously expensive yet I am oh so close to just giving in and buying what I want for the house and just pretending I didn't spend xyz on warmers!
** Since February doesn't contain a 30th of the month, I am lost as to when C turns 4 months.
Remember to link up with
Shannon
and her baby BOY bump!