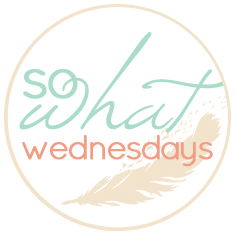 I feel like it's been FOREVER since I've hooked up with Shannon for a So What! Wednesday!
Here goes nothing!!
* I deleted 1804 photos from my laptop. I have a picture hoarding problem. I am now in remission.
* Coffee isn't that bad if you add enough creamer and sugar. I'm making an effort to like it, as it's easy and better for you than Diet Coke.
* This summer is going to be spent without makeup. After one day with makeup on, out in the sun at a festival, I am totally broke out.
* After taking my folks to the airport Monday morning, I did NOTHING. And loved every minute of it.
* James is so on board with the one and done plan that if I ever wanted a second baby, I'd have to sweet talk him a lot. Along with other things that shouldn't be mentioned on this blog.
* I started dieting again on Monday. However, the idea of working out is still foreign to me. Baby steps.
* I don't get way people follow blogs but don't comment on posts.
* I am on the fence about signing up for MOPS next year.