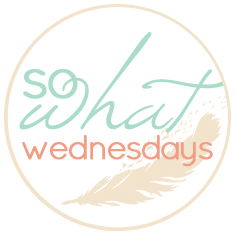 It's Wednesday!! Which means I get to say So What! to a few things...
* I've lost all desire to eat healthy or exercise. Something needs to give.
* Nothing pisses me off more than when my favorite shows take a 2-3 week break. Seriously? I need their manufactured drama in my life on a weekly basis.
* Mom, Kristin and Tracy are coming to visit next week and I can hardly wait. I am so excited to have my Mom here ALONG with some of my favorite HEY LADIES.
* The only way I will ever be a Mom again is if we adopt. And HE is 3 years or older.
* Connor slept 10-12 hours each night while on vacation. Now? We are lucky to get 8.
* Good customer service never goes out of style. Some "professionals" need to keep this in mind.
* 3 Diet Cokes in one day was a huge mistake. I was up until 3 a.m.
* MOPS hasn't lived up to my expectations.
Remember to link-up with Shannon over at
Life After I Dew
for this week's installment of SWW!