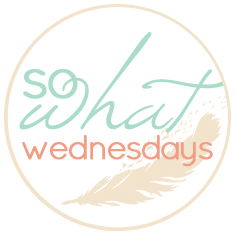 Happy Wednesday followers!
This week I'm saying So What!...
** Vacations still excite me (2 this month!) yet at the same time, I'm scared of how Connor will behave when his scheduled is out of whack.
** I don't always agree with Connor's pediatrician so I'm considering changing.
** Sleeping 6 hours is a total luxury these days.
** Since we owe the IRS this year, I'm already planning what I want to do with our hopefully refund next year.
** Mothers who breastfeed, cloth diaper, co-sleep and practice attachment parenting blow my mind.
** I need a bathing suit by 3/30... eff me! No good :(
** Getting the mail is one of the highlights of my day. Especially when something I've ordered arrives earlier than expected.