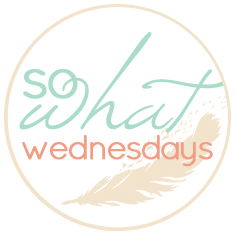 This week I'm saying So What! if...
** while playing and kissing on Connor this morning, he spit up on my lips. Better than in my mouth.
** listening to Pandora's Toddler radio station improves my mood every time.
** Buying my plane ticket to go home gave me the butterflies. I'm so excited to see so many people.
** Overusing bleach to clean has provided me with more than one ruined sweatshirt.
** I finally joined a Meetup group that I think I will actually like. One of the MNO planned is for pedicures and wine. Umm, hello!?
** Limiting myself to one Diet Coke a day has been the smartest decision I've made about dieting. I've already notice a difference in how my stomach feels.
** Forgetting to turn the oven off resulted in a burnt dinner and a trip to McDonald's for dinner. Gag.