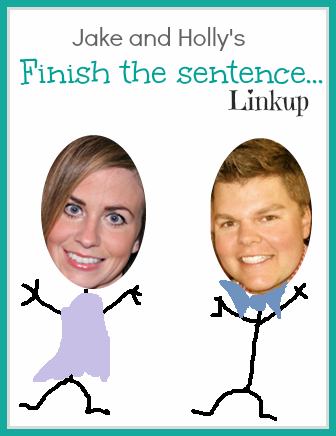 This could be my new favorite linkup. Give it a try and you will love it too!
1. If calories didn't count, I would eat...
24 friggin' 7. I have no shame in the fact that I love food. It's just so damn good. I'd break out the carbs, you know chips, cookies, cakes, breads and pastas, and enjoy life.
2. On my prom night....
I went with some girlfriends because my dickhead of a boyfriend wouldn't go with me. And instead of enjoying after prom, I rushed over to his house and was asleep by 11. Super lame.
3. When I go to the store, I always buy...
toothpaste. The idea of running out of it scares the shit out of me. A funky mouth is not welcomed here.
4. Family functions typically...
causes me to gain a good 5 pounds. We eat too much for too long. Especially Mom's Coma Cake. 'nough said.
5. I think my blog readers...
must be saints because I don't really have anything entertaining to share but all 46 of them rock my sock. Thanks dolls. And James.
6. I'd much rather be...
fat and happy then skinny and miserable. I did the latter of the two before and that shits for the birds. Fat, happy and sassy it where it's at. Well.. chubby. No one likes fat.
7. I have an obsession with....
nothing. I think I'm the only person on the planet who isn't obsessed with something. Makes me feel boring. I need an obsession. Any suggestions?
8. My work friends....
are an almost 5 month old baby, 3 dogs and a cat.
9. When I created my Facebook account....
I thought it was way lame and now it's part of my daily routine.
10. My least favorite word is...
moist. Something about that word gives me the hibby jibbies.
11. I really don't remember....
enough of the details of Connor's birth story to put a post together. When I read others, I feel totally inadequate as a Mom. I remember being given lots of drugs, waiting and waiting and waiting, using a food tray table to prop open my legs (I will never use one of those again!) and finally being told a c-section was our only hope. 26 hours and 2 minutes later, bam! Frankie was born. End of birth story.
12. Justin Bieber.... need
s to realize one thing: