It's that time of year when the weather cools, scarfs and warm clothes are worn, our homes get revamped with seasonal decor and we start to prepare for the holidays: Halloween, Thanksgiving and Christmas. I love the holidays. LOVE! I love the spirit each occasion creates. Halloween brings out our creative sides in the costumes we pick. Thanksgiving provides us to spend time with our families, sharing a day of over indulgence. Christmas allows us to shower each other with love and gratitude for the amazing relationships we are blessed with. Not to mention, we get to celebrate our Savior. With all the holiday madness, we sometimes get carried away in the events/days more than the purpose or reason for the gathering or special day. Enter my first ever link-up.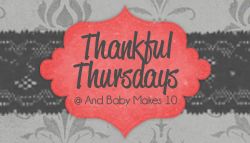 Every Thursday, we can link-up and give THANKS for what we feel blessed with and give a THANK you to those in our lives that serve a bigger purpose. In honor of the first Thankful Thursday, here is what I am thankful for this week:
I am so thankful that I have a husband that is willing, able and capable of supporting our family and my desire to be a stay at home Mom.
I have had a easy pregnancy. EASY!! The 34 weeks have been a breeze. I'm so thankful that I have gotten to experience a "perfect" pregnancy.
I'd like to thank whoever came up with bagged ice. Yes, you read that correctly, I am thankful for bagged ice. I drink so much ice water that without the ice, it just doesn't taste the same!
I give thanks to God above for blessing my life 21 years ago today with my baby brother. He is the most wonderful person; smart, funny, handsome, humble and loving. I am blessed to have a brother and best friend with such a good heart. He may look like a hippie and he could be a member of the Communist party, but he is my Bookey and I will love him until we are old and gray!
As you can see, thanks can be given for whatever you are thankful for! I know you all thought I was nuts to be thankful for bagged ice but it's my pregnancy vice, sorta like your coffee or your morning run!
Feel free to link-up with me and give some thanks!